Hi again, after few posts hers about 1 year ago, I didn't post anything, I was busy to learn some graphics capabilities, mainly with Lua and TIC-80 fantasy computer, that is a 16bits like computer, with 1980~90s resolution, and really limited capabilities. This (and COVID related confinement) helped me to concentrate on basics things, to go again on programming graphics things, as I didn't done for about 20 years. I made several procedural generation animation, and mix of hand drawn lowres pixel art and algorithmic animation. But as I like to paint/draw. More recently I started to go back on C and to explore languages I never used, Python and Verilog (FPGA❤️). I started to learn SDL with C and LÖVE, that use Lua as TIC-80. Lua allow to experiment really quickly without lot of constraints of lower level language and LÖVE is an advanced 2d game engine with textures, meshes, shaders, etc… I so tried to mix some Pencil2D, mainly MyPaint branch, made animation , some time finishing drawing with MyPaint, due to problems with current state of Pencil2D MyPaint branch, and Lua programming in LÖVE.
The Grid and Camera picture dimensions capabilities of Pencil2D helped me to fix the size of the picture for technical constraints (try to use multiple of 8x8 pixel base shapes, that can simplify some computations, I export animation, in multiple PNG, and then make a "spritesheet" from them with Image Magick.
As example, this is a splash animation made (and finished) with Pencil2D: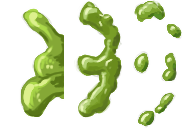 one frame is 64×128 pixels, I save as separate PNG, and assembled them with Imagemagick command called "montage" with the following arguments, as multiple image output extracte one picture by frame, I need to select key images I set in my animation:
montage sprite0001.png sprite0006.png sprite0010.png -tile 3x1 -geometry 64x128 spritesheet.png
For the monster I used the same technique. There is only 2 frame here (mouth opened and closed), my goal with to validate proof of concept of programming algorithm first with quick sketchs I would be able to add frames, then finish drawing.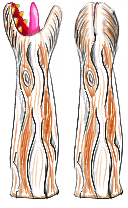 And here is what done the final animation. Monster use Mesh on this picture, that is bended.
The long green stuff is a non animated picture, made with pencil2d-mypaint-branch. the picture is wrapped for the movement, a shader add a zoom along the path, and a light sinusoidal move at then end, and it is then rotated following the shape of the monster. The splash is added at the end of this throwed thing by cycling among the 3 pictures, and several are drown with mirror to give the illusion of diversity. The final result of this test:
Looks like remote mp4 can't be displayed, Here is the link of the remote video. You can see the different animations in this blog post.
Another animation, only drawn one picture in Pencil2D there, and finished it with Mypaint. I think about several steps or independent animated elements made with Pencil2D that can be added by the program: