Operating System: Windows 11 Home
Pencil2D Version: Windows 7/8/10 64-bit v0.6.6
Hello,
I am recently getting back into Pencil2D after 4 years since my last project. I just finished an animatic, and I intend to add my animation layers on top of that in the same PCLX file (using the animatic layers as a template). I am starting with the backgrounds. However, I am having an issue with resolutions. Let me explain.
The first frame of my animatic is drawn (in a Bitmap layer) to represent the Milky Way galaxy.
When I double-click on the Camera Layer, I can see that I have the resolution set to 480x270.
I have a photo of the Milky Way galaxy that I am going to add to my "Background Layer" for this frame. The resolution of the photo is 1440x911.
So, with that in mind, the photo should be larger than the camera's view, right? Well, when I import the photo, this happens: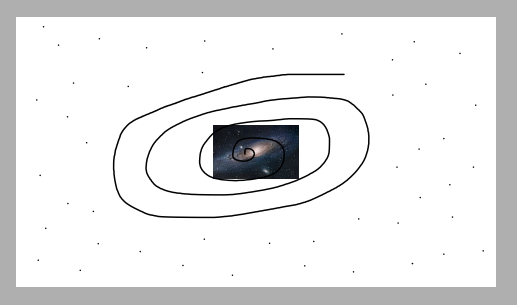 It is so small compared to the drawn frame, and I am trying to figure out what went wrong.
My questions for you are:
Did I misinterpret what the Camera Layer resolution is? Is the resolution of my frame actually much larger than 480x270? If so, what does that ratio represent?
Assuming I messed up and my Bitmap frames have a huge resolution, is there a way I can fix this and still use the animatic project as a reference for my animation? How about resizing the Bitmap frames to be smaller?
Sorry if this has already been brought up. I combed through a few threads about the Camera Layer but did not find a situation specific to mine.
Thanks in advance.