Hi Pencil2D Developer(s), It did not "verify" you (all) when i opened Pencil2D…
@Mar10JoshPlayz4life Hi we have a troubleshooting section on the same place where you download Pencil2D from where it says the following: https://www.pencil2d.org/download/#troubleshooting
Pencil 2D can't be opened because it is from an unidentified developer. (Mac users)

Right click on the file and press Open
By default macOS allows you to open apps only from the official App Store. This is usually set as your default setting so every time you try to open an app for the first time you will be seeing the warning.
So if you still can't open Pencil2D after trying the troubleshooting advice, fortunately you can make another simple change to your security settings in order to open third-party apps that aren't on the App Store, including Pencil2D. This doesn't mean you will be able to open every third party app without problem, but it will lessen the warnings.
Open System Preferences.
Go to the Security & Privacy tab.
Click on the lock and enter your password so you can make changes.
Change the setting for 'Allow apps downloaded from' to 'App Store and identified developers' from just App Store.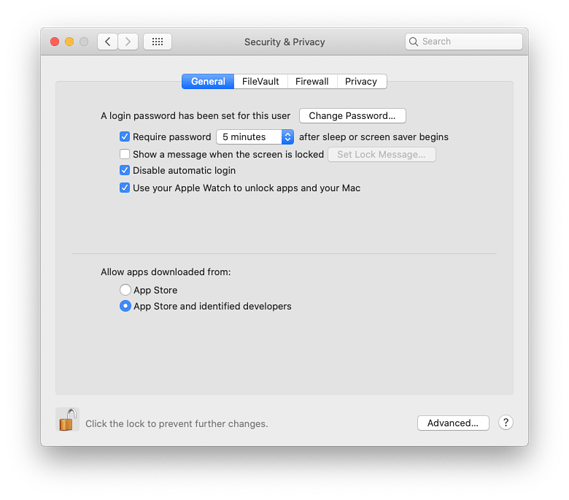 It will likely still warn you even if you are on the App Store and identified developers settings. You need to either right click the app and press open, or open regularly, dismiss the warning. then go back to the security settings. It should have a notice at the bottom about trying to open Pencil2D, with an Allow/Open Anyway button on the right you can click. You will only need to do either of these the first you start the application, you should be able to open it regularly afterwards. There are many videos online guiding you on how to allow an app from an unidentified developer you can search for if you still need help.
In order to remove the warning, we would need to sign the application, which would require an costly organization license from Apple. This is not something that we as a free application run by volunteers can do right now, so it will stay that was for a while.
This topic was automatically closed 42 days after the last reply. New replies are no longer allowed.