Hi Pencil2D users. I hope some of you want to help testing the new camera.
The New camera is developed in three stages, and this test build is about stage 2.
Stage 1 was about defining easing for the camera movement, and is already merged into the master branch. This means that it is (in) the nightly builds, and you can test it there. You right-click on the camera-frame to set the easing.
Stage 2 is about defining the camera field (placement, rotation and size) in a more intuitive way.

It is a long lasting coding process, that is close to the finish line. That depends on eventual bugs, suggestions for improvement and other things that might come up.
I have made a tutorial, that you'll find here: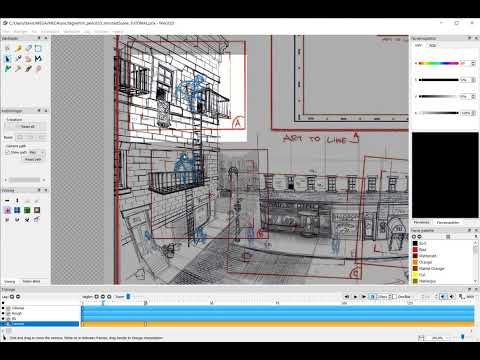 It should tell you what is needed to test it. If not - please ask here in this channel.
I have four development builds, and a test scene:
---
---
The test scene has a camera layer and a bitmap layer with a layout. The test scene must be downloaded to be useful, but you could also make a scene yourself… (no pun intended)
Those who depend on a legacy build must excuse me. I only provide the four main builds. Sorry.
They come with the same warnings as the official build, that is 'unknown provider' etc, but it is as safe as the official release.
Though - Please be cautious! DO NOT use these development builds for actual projects. Only for testing! It is a development build, with features not officially supported. Again - only for testing!