I'm using Ubuntu 12.04 64 bit, Pencil2D v 0.5.4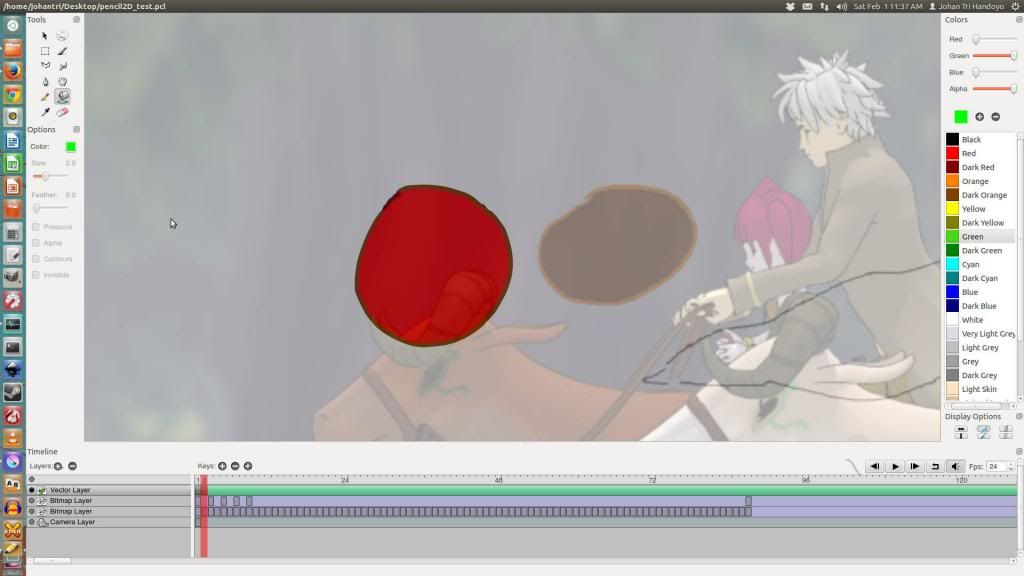 i think the image and the title are self explanatory

thanks
Welcome @johantri!
This is a well know issue of Pencil2D. It is already reported as a Bug.
Still, there is a way to go around this and it was explained by @morr, but I was not able to find his post. He explain how to use the fill tool for colouring with different colours.
Hope someone knows where it was posted.
By the way, very nice image you got here. Excellent!
About the founding process like in Blender3D, I am the one to think that the Pencil2D online community is very small and most of the users already registered have little or no time to spend in doing something for showing Pencil2D to others, in order to gain more enthusiastic people, and also developers, to the idea of having Pencil2d as the main open source bitmap/vector animation software.
But so fa, it has been a great advance from the past, in which Pencil2D was merely mentioned as abandoned due to very unpleasant bugs and lack of tools to use from.
its not the lack of tools that lets it down. It is the half finished nature of the tools.

Pencil2d is definitely more artist friendly than synfig- I give you that. The base design is amazing!
"… It is the half finished nature of the tools.

"
Well explained!
Thanks for your reply. I'm so happy to have a warm welcome in this forum

The picture above is my last animated series project, using Blender as the main animation tool and use Toonboom to add some effects to achieve anime style animation. https://www.youtube.com/watch?v=Qq6MMWNLihs
Meanwhile, my studio is very fortunate to be involved in Gooseberry Project (gooseberry.blender.org). We still in the pre-production stage at the moment, but Pencil2D will gives a new possibilities for the artwork. It's a very promosing, amazing and yet simple to use 2D animation software. You have a very good foundation, and i will be pleased to have Pencil2D in our studio pipeline, along with other open source software, of course. I will mention Pencil2D in Gooseberry's forum to see if Blender Foundation can support the development in the future.
We will be beginning to do R&D in a couple of days (or weeks), and try to implement Pencil2D. Finger crossed, hope everything go well

Cheers,
Johan T.H. | oha-studios.com
Those are very good news! Congratulation.
Let us know if you were allowed to implement Pencil2D in the production film

let us know if you have any questions or need any help with pencil2d.